European shares fell with U.S. futures after President Donald Trump's latest threat to target Chinese imports. Commodities fell and Treasuries climbed.
Carmakers and miners were the biggest losers in the Stocks Europe 600 Index after Trump ordered his administration to consider tariffs on an additional $100 billion worth of Chinese imports. The offshore yuan slid amid a holiday on the mainland as China responded saying it would counter U.S. protectionism "to the end, and at any cost." Futures on the S&P 500 declined following three days of gains for the index. Gold and the Japanese yen handed back earlier gains, while the dollar headed for a second weekly advance.

Trump's latest move is upending the optimism in stock markets of recent days that the U.S. and China will be able to negotiate a solution to avoid tariff proposals. After a volatile week, traders will be closely scrutinizing a speech from Federal Reserve Chairman Jerome Powell on Friday for clues on how the trade tensions are affecting monetary policy. They also have fresh economic data to contend with as the U.S. Releases non-farm payrolls and an employment report.
"With higher volatility here to stay and continued high political uncertainty, investors need to be discerning regarding their exposure," said Salman Ahmed, Chief Investment Strategist at Lombard Odier Investment Managers. "The increased risk of a trade war is likely to continue to weigh on performance until the uncertainty dissipates."
Elsewhere, Bitcoin headed for the lowest close since November.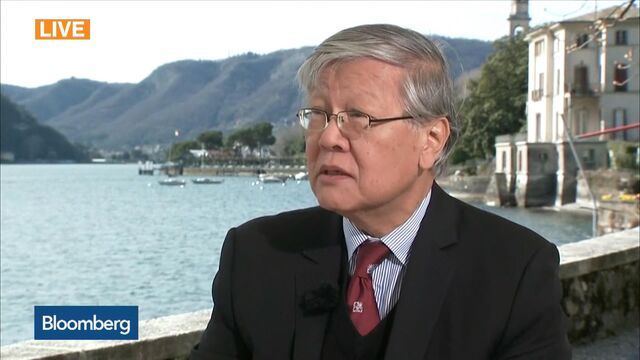 Terminal users can read our markets live blog here.
Here are some key events for the remainder of this week:
On Friday, America publishes non-farm payrolls and an employment report; the jobless rate was forecast to have fallen in March after holding at 4.1 percent for five straight months.
Powell will deliver a speech on the economic outlook during a visit to Chicago at 6:30pm London time, San Francisco Fed. president John Williams will speak later.
And these are the main moves in markets:
Stocks
The Stoxx Europe 600 Index dipped 0.5 percent as of 11:44 a.m. London time, the biggest decrease in more than a week.
The MSCI All-Country World Index fell 0.1 percent.
Futures on the S&P 500 Index sank 0.6 percent.
Germany's DAX Index dipped 0.5 percent.
The U.K.'s FTSE 100 Index decreased 0.3 percent.
Currencies
The Bloomberg Dollar Spot Index increased less than 0.05 percent to the highest in more than two weeks.
The euro advanced less than 0.05 percent to $1.2244.
The British pound increased 0.1 percent to $1.402.
South Africa's rand declined 0.7 percent to 12.0687 per dollar, the weakest in eight weeks.
Bonds
The yield on 10-year Treasuries fell one basis point to 2.83 percent.
Britain's 10-year yield fell two basis points to 1.418 percent, the biggest fall in more than a week.
Germany's 10-year yield declined one basis point to 0.52 percent, the largest drop in more than a week.
Commodities
The Bloomberg Commodity Index dipped 0.4 percent.
West Texas Intermediate crude decreased 0.4 percent to $63.30 a barrel.
LME copper declined 0.8 percent to $6,760.50 per metric ton.
Gold fell 0.2 percent to $1,324.00 an ounce, the weakest in more than two weeks.
— With assistance by Cormac Mullen, and Anooja Debnath
Comments
comments