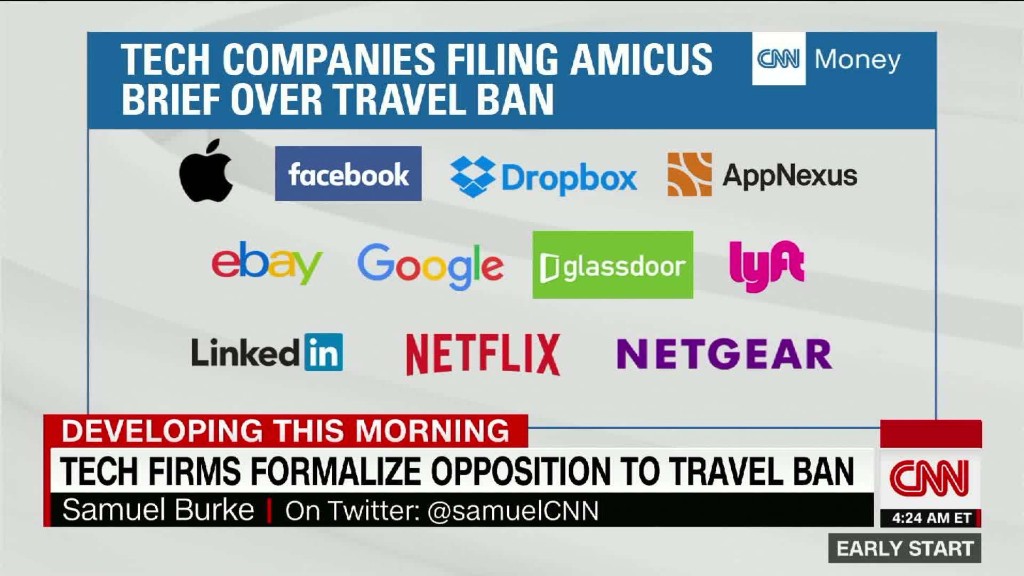 Tech firms take travel ban opposition to court
There's a new war of words brewing between the tech industry and President Trump.
Apple(AAPL, Tech30), Microsoft(MSFT, Tech30), Salesforce(CRM, Tech30) and Google(GOOGL, Tech30) and other tech companies are speaking out against the Trump administration's decision this week to withdraw Obama-era protections for transgender students in public schools.
Many of these tech companies also pushed back against a controversial North Carolina law last year that banned transgender individuals from using public bathrooms for the gender with which they identify.
Related: Silicon Valley's impossible balancing act with Trump
However, that outspokenness took place under the Obama administration, which also opposed the bathroom law.
Now, tech companies must reconsider the approach. They face pressure from progressive employees and customers to push back against Trump's most controversial policies. But they also need to work with the new administration on key issues like tax reform and regulations.
Silicon Valley has already pushed back against Trump's travel ban. The transgender issue could turn into the second high-profile clash in the opening days of the new administration.
Apple
Apple said in a statement Thursday that it "believes everyone deserves a chance to thrive in an environment free from stigma and discrimination."
"We support efforts toward greater acceptance, not less, and we strongly believe that transgender students should be treated as equals," the company added. "We disagree with any effort to limit or rescind their rights and protections."
Google
In a statement provided to CNNTech, Google said it is "deeply concerned to see a roll-back in transgender students rights."
Microsoft president Brad Smith
Brad Smith, Microsoft's president and chief legal officer, was one of the first tech executives to criticize the move.
Since Jan. 1, 1863, the federal government has played a vital role in protecting the rights of all Americans. Let's not stop now. #LGBTQ

— Brad Smith (@BradSmi) February 22, 2017
Lyft
Lyft had some of the strongest words against the policy reversal.
"Removing protections for transgender students is wrong," the company said in a statement provided to CNNTech. "We oppose this action and, as always, stand in support of the LGBTQ community."
Uber
Uber, Lyft's chief rival, touted its "longstanding opposition to harmful initiatives aimed at the LGBT community."
Salesforce CEO Marc Benioff
Benioff was one of the most outspoken critics of the North Carolina bathroom bill.On Wednesday, he retweeted a post from the ACLU pledging to fight for transgender students and posted his own call to action.
IBM
IBM(IBM, Tech30) CEO Ginni Rometty serves on Trump's business advisory council, but the company said Thursday that it is "opposed to discrimination in all its forms, including any policies that discriminate based on gender identity in education."
PayPal CEO Dan Schulman
In a broad statement to CNNTech on Thursday, Schulman said PayPal is committed to working with "communities, regulators, and governments around the world to foster inclusion, understanding and empower the best of human potential."
CNNMoney (New York)
First published February 23, 2017: 11:54 AM ET
Comments
comments