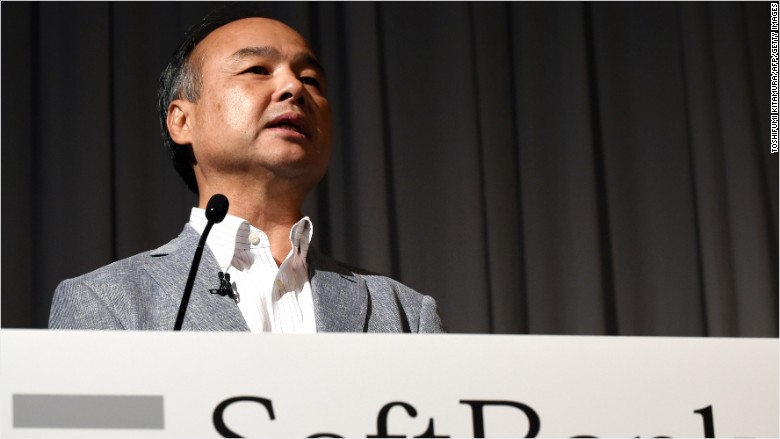 ARM Holdings, one of Britain's most successful tech companies, is being snapped up by Softbank for £24.3 billion ($32 billion) in the biggest foreign takeover by a Japanese company.
The cash purchase, which has been agreed to by the boards of both companies, represents a major strategic bet by Softbank CEO Masayoshi Son on mobile communications and the "Internet of Things."
ARM shares jumped 43% in early trade on Monday to match the £17 pounds ($22.50) per share offered by Softbank. Markets in Japan were closed for a holiday.
Cambridge-based ARM is a leader in mobile computing, designing technology that can be found in popular smartphones including Apple's(AAPL, Tech30) iPhone, making it a juicy takeover target for mobile-focused Softbank(SFTBF).
"We have long admired ARM as a world renowned and highly respected technology company that is by some distance the market leader in its field," Son said in a statement. "This is one of the most important acquisitions we have ever made."
The deal is the largest investment ever from Asia into the U.K. It's also the biggest Japanese purchase of a foreign company based on the value of the equity, according to Dealogic.
The ARM takeover comes less than one month after the U.K. voted to leave the European Union, a shock event that caused the pound to plummet and rattled investors.
Philip Hammond, the U.K.'s new Treasury chief, said the takeover showed that "Britain has lost none of its allure to international investors."
But the deal was also a chance for Softbank to buy a prized asset on the cheap. The pound has fallen by more than 27% against the yen since this time last year, with more than half of those losses coming before before the British vote to exit the EU.
ARM does very little business in Europe, which should help shield it from Brexit fallout. The company generated only 1% of its revenue in the U.K. in 2015, 9% in the rest of Europe and 52% in Asia.
Related: Check the performance of CNNMoney's 'Tech30'
As part of the deal, Softbank committed to doubling the number of ARM employees in the U.K. over the next five years. Roughly 40% of ARM's(ARMHF) 3,975 workers are currently based in Britain.
Softbank, which also owns a controlling stake in U.S. telecom Sprint(S), has been raising cash in recent months. In June, the company announced a plan to unload roughly $8 billion in Alibaba(BABA, Tech30) shares, the fruits of an early investment in the Chinese e-commerce giant.
There have also been major changes to the company's leadership. Superstar executive Nikesh Arora, who was being groomed as Son's successor, recently resigned as company president.
CNNMoney (New Delhi)
First published July 18, 2016: 2:50 AM ET
Comments
comments