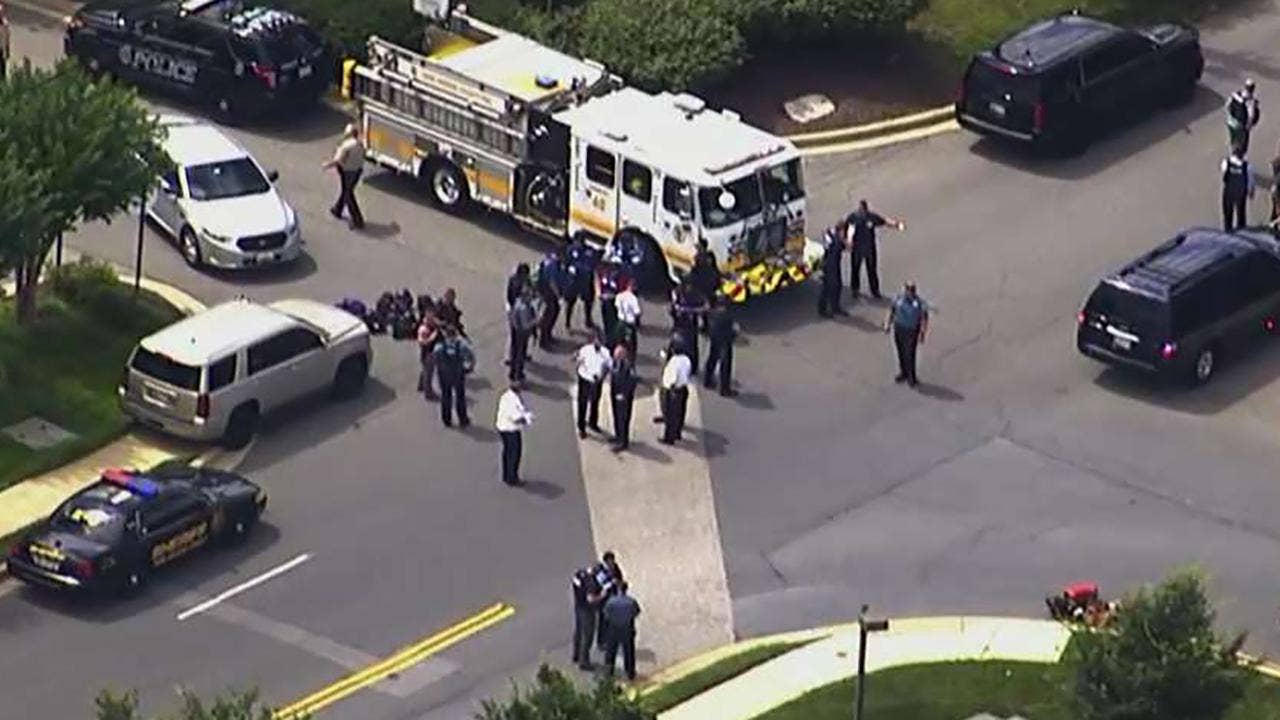 A suspect was apprehended following reports of shots fired and multiple fatalities in Annapolis, Maryland, Thursday afternoon outside the Capital Gazette newsroom, Anne Arundel Sheriff Ron Bateman told Fox News.
Word of the shooting on Bestgate Road came in around 2:30 p.m., Fox 5 DC reported, citing officials.
Police warned about the possibility of more shooters, however that has not officially been confirmed. They confirmed on Twitter it was an "active shooter" situation and that the building had been "evacuated."
"Officers continuing to search building," the tweet continued.
The Baltimore Sun, which owns the Annapolis newspaper, says a reporter told them of the shooting.
Phil Davis, who says he's a reporter for the newspaper, tweeted throughout the incident and said "a single shooter shot multiple people at my office, some of whom are dead."
"Gunman shot through the glass door to the office and opened fire on multiple employees," he said. "There is nothing more terrifying than hearing multiple people get shot while you're under your desk and then hear the gunman reload."
The Bureau of Alcohol, Tobacco, Firearms and Explosives (ATF) Baltimore said they are responding to the incident. The FBI is also sending assets to the scene from Baltimore, Fox News confirmed.
According to WJLA, citing sources, a shotgun was involved in the incident.
Video shared by Fox 5 DC showed a line of people with their hands in the air being evacuated from the area.
President Trump, as well as the first lady, have been briefed on the shooting, White House officials confirmed. White House Deputy Press Secretary Lindsay Walters said "our thoughts and prayers are with all that are affected."
Maryland Gov. Larry Hogan tweeted that he was "absolutely devastated to learn of this tragedy in Annapolis."
"I am in contact with County Executive Steve Schuh, and @MDSP is on the scene assisting @AACOPD," he continued. "Please, heed all warnings and stay away from the area. Praying for those at the scene and for our community."
Anthony Messenger, who said he is an intern at the paper, earlier tweeted, "Active shooter 888 Bestgate please help us."
This is a developing story. Please check back for updates.
Fox News' Brooke Singman and The Associated Press contributed to this report.
Comments
comments