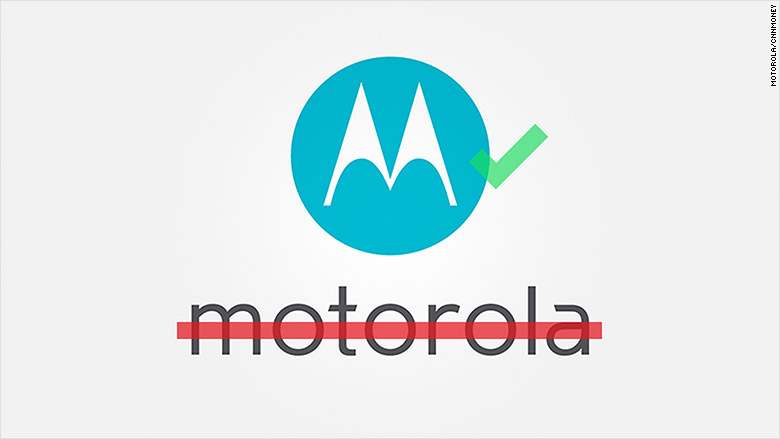 Say goodbye to the Motorola brand. Lenovo is letting it die, which means you won't see the name on phones anymore.
But the famous "M" icon isn't going away.
The Chinese PC maker will use "Moto by Lenovo" instead, and add its own blue logo to tie the brands together, according to COO Rick Osterloh.
The Motorola name will still be used internally at Lenovo from a "corporate perspective."
"We'll slowly phase out Motorola and focus on Moto," he said in an interview with CNET on Thursday.
There's currently a huge line of recognizable Moto products, including smartphones, smartwatches, fitness software and Bluetooth headsets.
Related: Motorola's 83-year history of invention
The Moto 360 smartwatch has attracted a lot attention for being a beautifully designed and easy to use wearable device. And Motorola recently made headlines with the release of a new Droid Turbo that claims to be the first smartphone with a shatterproof screen.
But getting these devices to sell has taken a tough couple of years.
Motorola — the company responsible for inventing the first walkie-talkie and consumer cell phone — has been bought and sold twice since 2012.
Related CES news: BlackBerry is here to say, CEO says
Google acquired Motorola four years ago for $12.5 billion in a historic deal that marked the start of Google's entry into the hardware business.
But Google had a tough time with its turnaround strategy for Motorola. Sales for their first smartphone, the Moto X, fell short of expectations and Motorola never turned a profit under its new owner.
Google cut thousands of jobs before it sold the mobility unit to Lenovo in 2014 for $2.9 billion.
Interestingly, Google(GOOGL, Tech30) and Lenovo will have another business in common again soon.
Related CES news: Feds raid Chinese 'hoverboard' booth at CES
The two companies announced at CES this week that they will build a smartphone together using a new kind of software called Project Tango.
Project Tango comes from Google's Advanced Technologies and Projects group. The software will let phones track motion in 3D and real time so that whoever holds a Project Tango phone can track their position indoors and outdoors and map it.
CNNMoney (New York)
First published January 8, 2016: 12:28 PM ET
Comments
comments