Mark Zuckerberg is coming under criticism after Facebook censored one of the most famous war photographs in history.
The editor of a top Norwegian newspaper on Thursday addressed an open letter to Zuckerberg saying he was "upset, disappointed — well, in fact even afraid" over the impact of Facebook algorithms on media freedom.
Espen Egil Hansen said his newspaper, Aftenposten, received a demand from Facebook on Wednesday to remove the iconic Vietnam War photo of a naked girl fleeing a napalm attack.
"Less than 24 hours after the email was sent, and before I had time to give my response, you intervened yourselves and deleted the article as well as the image from Aftenposten's Facebook page," Hansen wrote.
Related: Facebook ditches humans in favor of algorithms for trending news
His complaint highlights growing concern aboutFaceboo'(FB, Tech30)s vast and expanding influence over news and other content seen by more than a billion people around the world.
"You create rules that don't distinguish between child pornography and famous war photographs," Hansen wrote to Zuckerberg. "Then you practice these rules without allowing space for good judgment."
Facebook(FB, Tech30) didn't immediately respond to a request for comment Friday.
The saga began when Norwegian author Tom Egeland posted a series of historic war photographs on Facebook.
Related: The girl in the picture — a journey from war to forgiveness
The social network then removed one of the images — the famous Vietnam photo of the naked girl, Kim Phuc, fleeing the napalm attack — and later suspended Egeland's account after he posted a reaction to the deletion, according to the Norwegian newspaper.
The photo, snapped by Associated Press photographer Nick Ut, won a Pulitzer Prize and is one of the most memorable images of the 20th Century. Despite its graphic nature, the publication of the photo has been credited with helping to turn U.S. public sentiment against the war in Vietnam.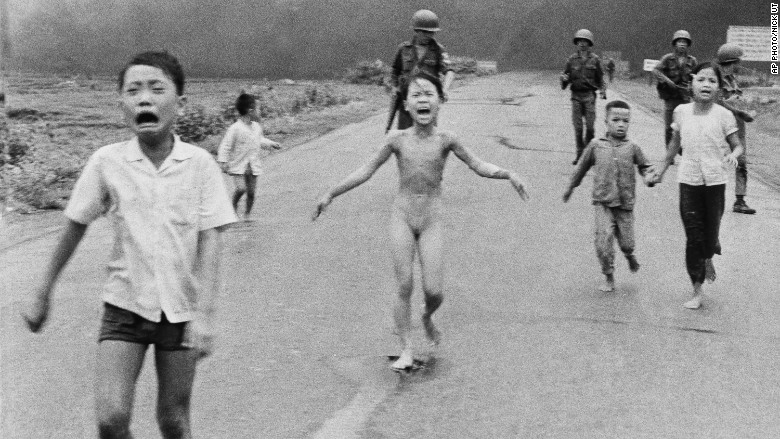 When Aftenposten shared its article on Facebook about what happened to Egeland, that too fell foul of the platform's rules.
"You even censor criticism against and a discussion about the decision — and you punish the person who dares to voice criticism," Hansen wrote, describing Zuckerberg as "the most powerful editor in the world."
Zuckerberg has tried to fend off pressure about Facebook's role in managing what articles and images people see.
"We're a technology company, we're not a media company," he said last month. "We do not produce any of the content."
But some media experts disagree.
"Whether intentional or desired or not, Facebook does now play a critical role in the distribution of news," Jeff Jarvis, a journalism professor at the City University of New York, wrote in a blog post earlier this year. "An editor — or perhaps an ethicist-in-chief — could help set the services standards and policies."
Jarvis seized on the Norwegian editor's letter to Zuckerberg on Thursday, tweeting that it's an example of "exactly why I keep suggesting Facebook needs a top level journalist."
Facebook was engulfed by controversy in May over how news stories were chosen for its "trending topics" box. Last month, it removed the humans responsible for manually writing news descriptions and headlinesfor the section, turning the job over tosoftware programs.
CNNMoney (Hong Kong)
First published September 9, 2016: 3:55 AM ET
Comments
comments