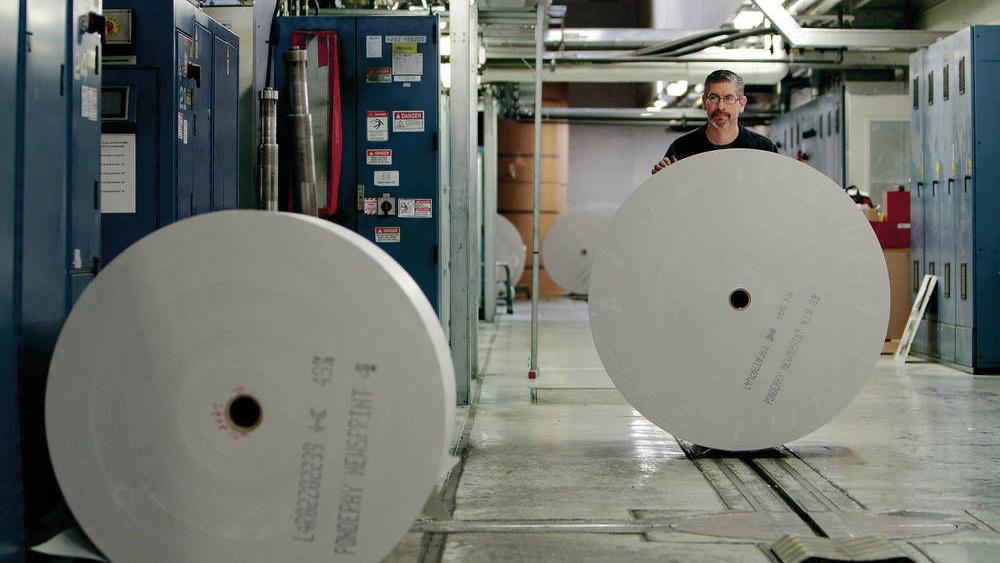 Tariffs on newsprint, the form of paper used by newspapers throughout the country and in New Mexico, are adding steep new costs to a media industry already burdened by change.
Preliminary duties imposed since January by the U.S. Commerce Department on paper shipped from Canada have hiked the cost of newsprint by as much as 30 percent, said publishers of daily newspapers in New Mexico. That could lead to reduced staffs, fewer days in print and a dent in local news coverage for some small newspapers.
The department plans to make a final decision on the tariffs in August.
"The timing is really bad, with all the issues we've had in general," said Barbara Beck, publisher of the family-owned Roswell Daily Record. "The financials are going down like the Titanic."
U.S. newspapers, faced with declining advertising revenues, have gone from about 400,000 employees to about 175,000 in the past 10 years, said Paul Boyle, senior vice president for public policy at the News Media Alliance, an industry advocacy group based in Virginia. Further cutbacks would mean an erosion in local news coverage, he said.
"These newsprint tariffs are like a kick in the teeth," Boyle said.
The New Mexico congressional delegation in March urged Commerce Secretary Wilbur Ross to revisit the tariffs and consider that some smaller papers could shut down due to the added cost. Domestic paper mills, they wrote, can produce only a fraction of the tons of newsprint used in the U.S.
The tariffs sprang from a complaint by one U.S. paper producer, North Pacific Paper Co., of Longview, Wash. Originally a joint venture of Weyerhaeuser Co. and Nippon Paper Industries of Japan, the company was acquired by One Rock Capital Partners LLC, a New York hedge fund, in 2016.
The Commerce Department in January imposed an average 6.53 percent preliminary duty on incoming Canadian paper. In March, the department added a stiffer anti-dumping penalty of as much as 22.16 percent. Publishers are feeling the effect.
Tom Cross, publisher of the Santa Fe New Mexican, said the cost of newsprint has risen nearly 24 percent since June. Newsprint constitutes 9.8 percent of the newspaper's operating cost, second to payroll and benefits.
"In a very short period, we've been hit with a significant increase in prices," he said Wednesday. "Everything's on the table. We haven't necessarily moved in one direction at this point."
Contact Joseph Ditzler at 505-986-3034 or jditzler@sfnewmexican.com.
Comments
comments