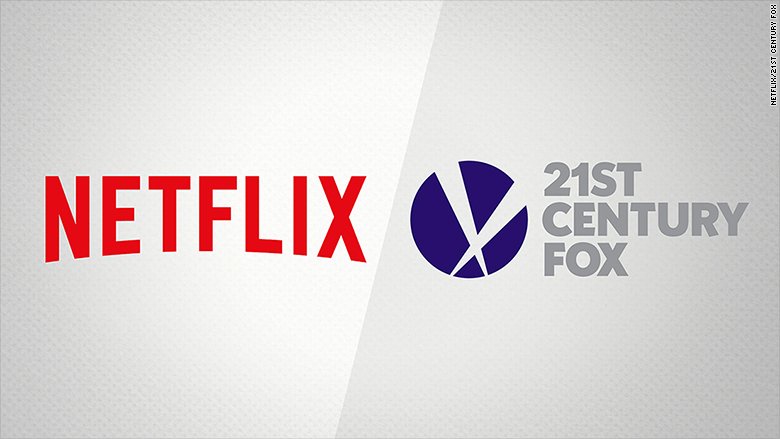 21st Century Fox has filed a lawsuit against Netflix, accusing it of poaching two executives.
The suit, filed Friday in California Superior Court in Los Angeles, alleges that Netflix has conducted a "brazen campaign to unlawfully target, recruit, and poach valuable Fox executive by illegally inducing them to break their employment contracts with Fox to work at Netflix."
"As our complaint explains, we filed this lawsuit because we believe Netflix is defiantly flouting the law by soliciting and inducing employees to break their contracts," a spokesperson for Twentieth Century Fox Film Corporation and Fox 21 — the two units of 21st Century Fox(FOX) that are named as plaintiffs in the suit — said in a statement.
The two executives at issue are Tara Flynn and Marcos Waltenberg. Flynn had been vice president of creative affairs at Fox 21; Waltenberg was vice president, promotions, at Twentieth Century Fox Film.
"Fox is seeking a permanent injunction prohibiting Netflix from interfering with executives under contract as well as compensatory and punitive damages," the suit says. "This action is necessary to enforce Fox's rights, to hold Netflix liable for its wrongful conduct, and to prevent Netflix from continuing such illegal conduct."
Netflix(NFLX, Tech30) did not immediately respond to requests for comment, but in a statement to Deadline said it will "defend this lawsuit vigorously."
CNNMoney (New York)
First published September 16, 2016: 4:40 PM ET
Comments
comments